Meet St. Maarten/St. Martin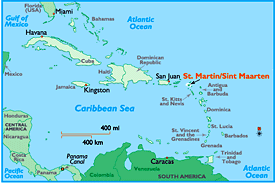 Situated 200 miles east/southeast of Puerto Rico, St. Maarten (the French spell it "St. Martin") has an area of 34 square miles and is the smallest landmass in the world to be divided into two countries. The Dutch and the French have governed and shared this island peacefully for more than 350 years. In previous centuries, several other countries have claimed St. Maarten/St. Martin as their own (Spain and Germany for example) and each of its people and customs has left an impression. This has given the island one of its most precious and attractive characteristics -- cultural diversity and acceptance without conflict.

Also worth noting is that St. Maarten/St. Martin is a hub in the eastern Caribbean and offers easy day trips by sea and by air to other nearby islands (i.e. Anguilla, St. Bart's and Saba).

About the Dutch Side: Dutch St. Maarten covers 14 square miles of the southern part of the island, an area marked by verdant rolling as well as steep hills that rise above mile after mile of beach, salt pond and lagoon. In 2010 St. Maarten gained independent status with the Kingdom of the Netherlands; however, it's a multi-cultural society and the strong influence of West-Indian traditions make its culture anything but exclusively Dutch. Today, St. Maarten's atmosphere is an intriguing blend of genuine Caribbean hospitality & conviviality and European sophistication.

The predominant language of Dutch St. Maarten is English, which is spoken by nearly everyone, and the primary currency for trade and business is the U.S. Dollar.

Philipsburg, the Dutch capital since 1768, is built on a sandbar that divides the island's main harbor, Great Bay, from its Great Salt Pond. The town began as a Dutch trading center, and the forts around Philipsburg are haunting reminders of its one-time strategic importance to European powers and the battles that took place there. For hundreds of years traders from all over the world sailed in an out of the protective arms of Great Bay, and Philipsburg was established as a lively center of international commerce. And it continues to be so.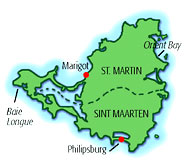 Shopping: Most of the vessels that arrive in Great Bay today are cruise ships, which brought almost 1,650,000 visitors to the island in 2016. Consequently, international trade still thrives thanks to St. Maarten's status as a leading duty-free port that offers world class shopping. Philipsburg's main street (Front Street) is lined with a myriad of specialty shops, but it is best known for its international clothier / designer boutiques and its accredited diamond and gold jewelry stores. Front Street is transformed into a pedestrian mall by day, making a buying or browsing visit relaxed and enjoyable.


Dining & Nightlife: St. Maarten is renowned throughout the Caribbean for its vast number of fine restaurants. Casual dining and haute cuisine are available in abundance in charming villages and seaside settings on both the French and Dutch sides. The evening ritual begins when bistros open their doors and lively conversations in a multitude of languages, accompanied by enticing culinary aromas, drift onto the streets and along the beaches. Later, when most other islands have gone to sleep, the nightclubs of St. Maarten are just waking up. Nightlife on the island is eclectic and includes Caribbean & local music, jazz, discos and casino gambling (Dutch side only).

Climate & Activities: St. Maarten's steady trade winds keep it virtually free of oppressive heat and overcast skies. The climate is temperate and the sun shines nearly every day. Aqua blue waters and white sand beaches surround the island (there are about 37 in all), and even in high season there are beaches to be found that are delightfully secluded and unpopulated.

Offshore, the pristine waters of the Caribbean provide for ample opportunities boating, snorkeling, jet skiing, water skiing, para-sailing, diving and fishing. On land, the low humidity and varied terrain make it ideal for biking, hiking, horseback riding, quad riding & scootering among many other kinds of exploration.