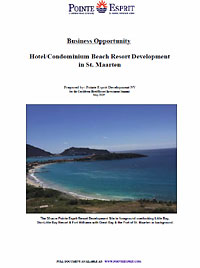 Developer Opportunities at Pointe Esprit

The Pointe Esprit Resort Development Site is one of the last large, develop able ocean front parcels remaining in St. Maarten. The parcel is well located along an under utilized section of new road linking Philipsburg, the Dutch Capitol, with Princess Juliana Int'l Airport (SXM). The site's location on St. Maarten allows for easy access to both the Dutch and French sides..

The parcel has been granted an irrevocable planning permit for development of 425-resort hotel & residential units. The 30-acre site offers a 1500 ft long private scenic entrance which descends to Little Bay offering spectacular views. Read Report


Conceptual Development Plans

Pointe Esprit Development NV has prepared conceptual design plans for the site for resort & residential use as well as for an office park development.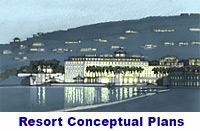 a) Resort Conceptual Plan: In additional to the existing approved plans a new resort conceptual design plan has prepared for the overall 30-acre site. The plan encompasses a beachfront resort development with associated for-sale residential condo units and envision 500 (+/-) hotel rooms, studios, one & two-bedroom units. The conceptual plans include site drawings, elevations, units layout plans & design themes and can be viewed & downloaded from the link on the right.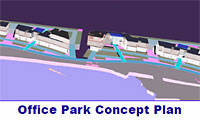 b) Office Park Conceptual Plan: Conceptual plans for an optional 5-building VROMI approved office park for the 5-acre portion of the site immediately west of the lagoon. Elevations on this part of the site are lower and don't offer premium ocean view potentials. Therefore, with less inclined terrain, it's suitable for consideration for an office park development. A Power Point Presentation (PPS file) & a PDF file can be viewed & downloaded from the link on the right.
Section

Land Use

Property Type

Total Area (m2)

Lot Size (m2)

Unit Size

Height Limit (m)

# Units

Price
(per m2)

Description
(click below)

A.

Residential

Single-Family Attached Duplex Town Homes

10

20

A.

Commercial

Commercial/Office

-

B.

Residential
Single-Family Attached Duplex Townhomes

14,500

800 - 1,800*

1,200 - 1,400

10

22

US 200.00**

C.

Residential
Single-Family Detached

13,700

750 - 1,850

1,400 - 1,700

10

10

US $200.00**

D.

Residential
Single-Family Detached

1,800 - 2,500

10

10

US $200.00**

E2.

Residential
Single-Family Detached

22,900

10

17

US $130.00-150.00**

F.
SOLD

Residential
Lot Sales or Custom Homes

8,000

-

1,500 - 1,700

10

5

SOLD OUT

H.


Resort

Resort/Condominium

51,000

-

19

225

I.


Commercial
Commercial Center

30,000

-
*Lot size per building cluster **All pricing is subject to change